Search Engine Optimization (SEO)
Achieve long-term growth and stay competitive with our expert SEO services in Toronto. Our team of SEO specialists employs cutting-edge techniques to optimize your website's search engine visibility and help you reach your target audience.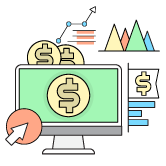 Search Engine Marketing (PPC)
Maximize your ROI and reach qualified buyers in any location with our certified PPC marketing services. Our team is trained and certified by Google, Yahoo, and Bing to deliver effective and efficient results for your business.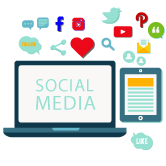 Social Media Marketing
Build a loyal network of followers and increase consumer engagement with our top-notch social media marketing services in Toronto. We specialize in crafting and executing effective social media campaigns that promote your business and enhance your online presence.
Email Marketing
Strengthen customer relationships, build brand awareness, and drive immediate action with our personalized email marketing services. Our graphic design team will help you create compelling newsletters and promotions that resonate with your audience and drive conversions.
Web Analytics
Measure and evaluate the success of your online advertising campaigns with our comprehensive web analytics services. Our Google Analytics consultants provide detailed insights into your website's performance, enabling you to make data-driven decisions that drive business growth
Local SEO
Improve your online visibility and attract local customers with our expert local SEO services in Toronto. We specialize in optimizing your Google My Business profile and other local directories to ensure that your business appears at the top of relevant search results.
Advanced Internet Marketing Solutions to Grow Your Business
As a leading digital marketing agency in Toronto, G Web Pro offers a comprehensive range of advanced internet marketing services. These include SEO, SMM, SEM, web analytics, email marketing, and Google My Business optimization. We have a proven track record of success and are proud to be partnered with Google. Our agency has been featured in influential publications and blogs, including Forbes, The Huffington Post, and Entrepreneur.
We specialize in building customized digital marketing programs that cater to the specific needs and goals of small to medium-sized businesses throughout the Greater Toronto Area. Our ROI-focused solutions are designed to deliver quality results and enhance your online visibility. To achieve this, we conduct in-depth research on your industry and target audience, enabling us to devise tailored solutions that help you achieve your marketing objectives.
At G Web Pro, we utilize hyper-targeted, data-driven digital marketing strategies to provide fast and effective returns on investment. Our team of experts closely monitors and analyzes your online presence, providing valuable insights and recommendations to help boost your brand's recognition and reach new audiences.
Our measure of success is the success of your business. When you partner with G Web Pro, you can trust that we will work tirelessly to help grow your brand and achieve your marketing goals. Contact us today to learn more about our advanced internet marketing solutions in Toronto.