Search Engine Optimization (SEO)
SEO is vital to be competitive and sustain your company's long-term growth.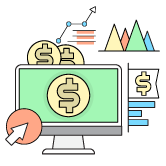 Search Engine Marketing (PPC)
Search Engine Marketing, or pay per click marketing, allows you to target qualified buyers in any geographical area. Our team is certified by Google, Yahoo and Bing to grow your business.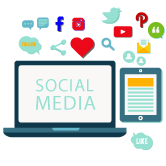 Social Media Marketing
Let us help you build a network of core supporters and increase consumer engagement. Social media is an effective way to promote your business online
Email Marketing
Generate immediate action, build brand awareness, and strengthen relationships. Our graphic design team can help you build relationships with your customers through personalized promotions & newsletters.
Web Analytics
Analyze and gauge the success of your advertising campaigns. Our Google analytics consultants offer detailed analysis of your website's performance.
Local SEO
Most of our experience online involves search engines, and the popularity of Google around the world is unquestionable. Integrating Google My Business optimization into your online strategy is key to boosting your business.
Advanced Internet Marketing Solutions to Gear Up Your Business!
G Web Pro is a fast-growing digital marketing agency in Toronto that specializes in SEO, SMM, SEM, Web Analytics, Email Marketing, and Google My Business Optimization. We are partnered with Google and have been featured in influential publications/blogs including Forbes, The Huffington Post, and Entrepreneur.
We build strategic digital marketing programs for small to medium-sized businesses throughout the Greater Toronto Area. All our internet marketing solutions are ROI-focused and centered on delivering quality results. To that end we study your industry, target audience, and needs to devise customized solutions to further your marketing goals.
Our hyper-targeted, data-driven digital marketing strategies provide fast and effective returns on investment. In addition, we share valuable insights regarding your business and work closely to boost your brand's recognition.
Our measure of success is your business's succeed. Work with us to help grow your brand to reach new audiences.