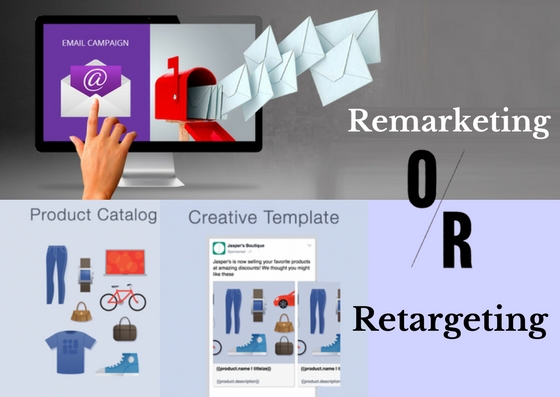 There are many reasons behind the growing interest in digital marketing. It's sometimes the cheapest marketing solution or the most effective way to reach a large audience. The other, arguably more important advantage it provides, is the level of visibility afforded throughout your marketing campaigns.
Minute details regarding your website and its users' online activity (not only a user's actions on your online store/ website but also what he does and likes while being online) is revealed through tracking metrics.
This is where remarketing and retargeting efforts begin. People who already have some familiarity with your brand (either by visiting your site, viewing your ads or filling out a form on your website) make prime candidates for these strategies.
Before we can get into when to implement each, let's first what each process involves.
 Retargeting

The term retargeting is very common with display ads that are marketed after analyzing the users' activity on your site. It's done by setting cookies on the users' browsers when they visit your site.  To retarget your customers, you need to place a JavaScript code in the footer section of your website. The code creates a list of people who visited your site by placing cookies on their browsers. With the help of this list, the third party vendors can retarget your potential customers when they pay visits to other sites.. Third party networks usually provide these services and help you reach millions of users on their partner sites. There are several retargeting channels and strategies that you can choose from.
 Some Facts About Retargeting 
Retargeting can boost your marketing efforts, but there are several downsides as well.
Many users consider online ads useful as they are a simple way to view the products or services they might be interested in. But if the same ads repeat frequently, then they quickly become annoying.
Displaying irrelevant ads can leave a negative impact on your brand.
According to a report by Inskin Media, the chances of attracting a user through your ad is four times higher if it's relevant.
To run a successful retargeting campaign, you need to pay attention to the context, content and relevance of your ads. If these three qualities are present, you can generate a good ROI. Moreover, your brand will leave an impression on a buyer's mind from the very beginning of the buying cycle.
Remarketing
Remarketing is a process involving the re-engagement of lapsed customers through email marketing. It's typically used to minimize the amount of shopping cart abandonment and engage more customers in up-sell and cross-sell.
Some Facts about Remarketing
It's a great tactic to re-engage customers when there's a new product launch or a product is on sale.
 It's also beneficial as a cart abandonment reminder as there are a lot of people who appreciate the follow-up and take a buying decision.
Similar to retargeting, it can create annoyance among recipients if too many irrelevant or similar emails are delivered repeatedly.
 Remarketing or Retargeting?
As discussed above, there's no reason why both tactics couldn't be implemented as they each apply to different phases of the buying cycle. Applying both simultaneously can help you earn good ROI. Retargeting keeps your brand fresh in a user's mind, while remarketing can convert lapsed users into active customers.
To run both campaigns effectively, you need to keep track of user activity data. After that, achieving a high conversion rate is within view.